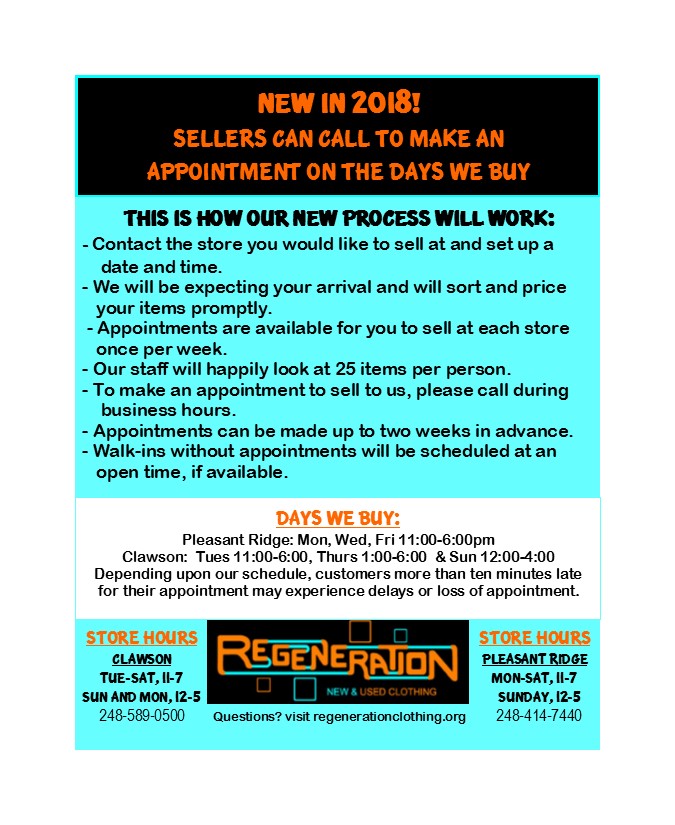 Pleasant Ridge BUY HOURS:
Mon/Wed/Fri 11 – 6:00
Clawson BUY HOURS:
Tuesday 11 – 6:00, Thursday 1-6 & Sun 12 – 4
How do we select clothes and prices?
We decide what the item will sell for in our store
We offer our sellers 30% of this in cash or 45% in store credit
Sellers may also choose a combination of cash and trade
What we look for:
• Current styles (Typically styles within the past 1-2 years)
• Vintage & select retro fashions
• Maternity & children's clothing (Clawson location only)
• Styles that are currently selling well for us
• Items in great condition
• Clothing, shoes, purses, wallets, belts, jewelry, women's and men's accessories
• Seasonal pieces – We choose items based on the current season, and usually shift into the following season gradually.
You should know:
• Please only bring in 25 items per Buy Day. We include jewelry and accessories in this count.
• We always set aside any items we are interested in purchasing from you and are happy to show you what we did select and the price they will be sold for.
• If you leave the store, our policy is that you MUST return on the same day to pick up any leftover clothing and to choose the cash, trade or coupon.
• We will not hold your items overnight. If you do not return the same day, any items we are not purchasing from you will be donated to the Capuchin Soup Kitchen.
• We often make "bring back" piles if there are items we would like for you to bring in at a later date or different season.
• On occasion, if a seller brings in an extremely expensive item, we may consign the piece – this means the seller will get 50% of the agreed price when the item sells. This is not typical and roughly 1% of our inventory is on consignment.
• Please keep in mind we have to select clothing that sells well for us. We must also consider our current inventory and sometimes have to pass on items if we are too full in a certain area.
*Sometimes people don't want to take back clothing we didn't select for the store. If that's the case, you can leave it for donation. The Capuchin Soup Kitchen picks up from us every Thursday morning. Unfortunately, we can't offer you a tax receipt and if you prefer to have one, we can recommend local charities where you can take your clothes.